CONFIDENT SOLUTIONS, LLC
BRIDGING THE GAP BY EMPOWERING CHILDREN, FAMILIES, AND SCHOOLS THROUGH MAKING MINDFUL CONNECTIONS.
One Social Thinking tool, that we not only teach our students but use at home ourselves, is the Size of My Problem developed by Michelle Garcia Winner. On a scale of 1-10, how big is the problem and do our emotions or responses match the size of my problem? If I didn't get my choice of where to sit, that is a glitch. A small bump in life. If my problem is a 1, just a glitch, than my reaction should match my small problem. This is where we can teach our children tools to help navigate and solve the problem themselves. Typically, a small problem can be solved rather quickly and the person may be upset for a short amount of time. If it's a medium sized problem, than the child is going to need an adult to help him/her solve the problem and they may be upset for a little longer. An example of a size 5 problem would be siblings arguing. A big problem, like a 9, is a problem that a lot of people are upset about and an adult will need to solve. Many people will be upset for a longer period of time such as during an earthquake.
Often times, when our children struggle with social emotional cognition, they will first identify their problems as medium to large and have large emotions to what really is a smaller problem. Walking them through the steps of first identifying the size of the problem is a useful tool in helping them match the true size of the problem.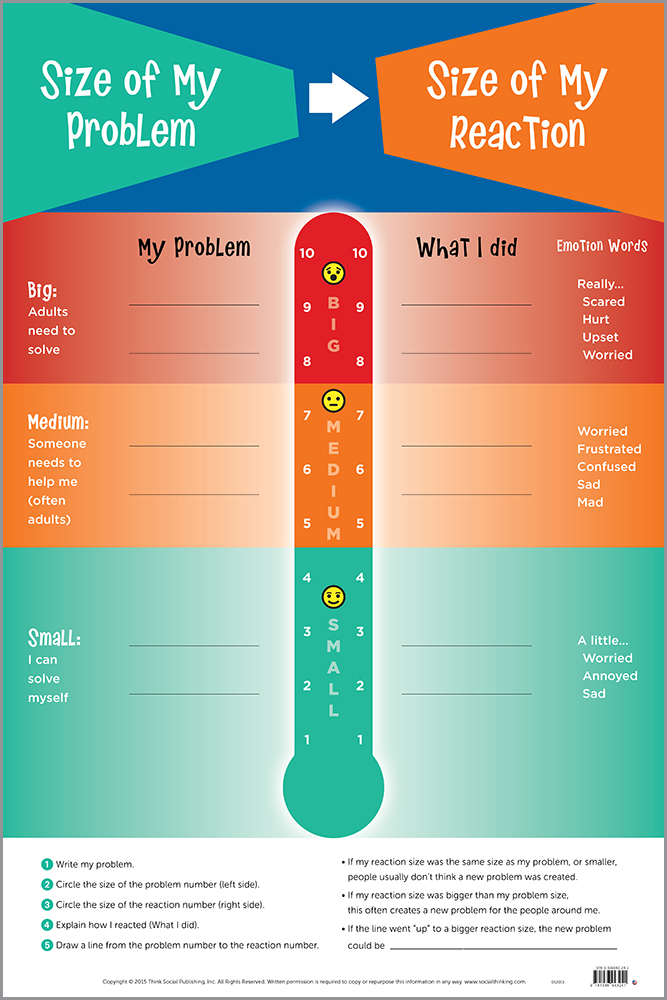 With Appreciation,
Christina and Wendy